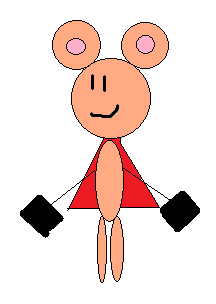 OK, don't think I'm hypocritical. Super Nude Hamster (SNH) is a
hairless hamster
. He gained bionic superpowers one fateful night after a radiation accident. He has literal iron fists and can fly, as well as shoot fire from his hands. He is the leader of Team Super.

Trivia:
He lives in a secret cave in the middle of nowhere
He has had many sidekicks, which will eventually get their own page.
He, along with all his friends, eat pizza every night for dinner.
The pizza guy's name is Jimmy. He has a wife and 2 kids and will never tell where he goes to deliver SNH's pizzas.
He has an unhealthy addiction to hot cocoa (added on 4th anniversary, about 3 months ago.)